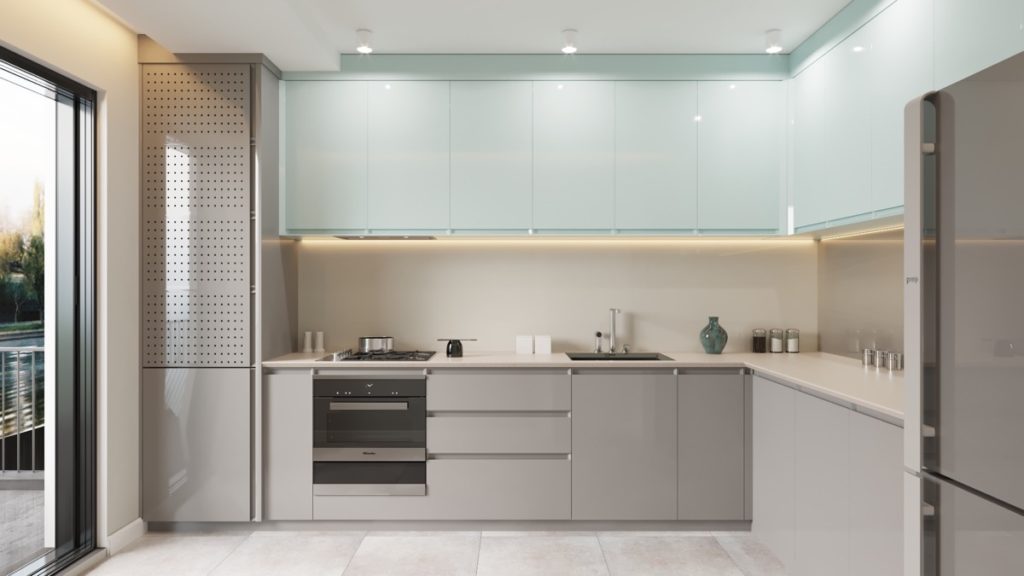 If you're looking to redesign your kitchen, you're in the right place. We've put together some of the top trends and exciting designs to make the process of redesigning your kitchen easier. Read below for all the latest hints and tips to make the kitchen of your dreams!
1. Make the most of the space
When designing a room for your own use, you should spend some time looking at the room you've got currently and what you wish was different. For anyone who enjoys cooking, storage space in a kitchen may be hugely important for you, whereas someone who is more focused on using their kitchen as a hang-out space for friends and family might want an island to sit around.
Focus on your desires and what you want your kitchen to be able to offer you, and you'll quickly see where your personal priorities are for that room. You can also look at innovative ways to integrate them too – especially for those who own a lot of kitchenware but want that minimalist, sleek look, handle-less storage is a perfect option.
2. Picking your shades
Before now, kitchens were often either all-white to keep them looking spacious and clean, or leaning towards light, warm colours, with lots of wooden tones and orange or cream shades. This is all changing, though, with more and more homeowners welcoming in various colours into their kitchens to make it more fitting for their style.
Picking colours can seem like the easiest part of designing your kitchen, but you need to make sure that you're fully committed to the colour and that you're going to love it when it's in rather than just on paper. Introducing brighter, bolder colours is a stunning way to make your kitchen stand out from the crowd, and when paired with silver or chrome handles and accessories, will have anyone entering the room incredibly jealous!
3. Which worktops are best?
There are plenty of different materials that you can use for your worktops, so you should have a think about which will work best for you, as well as what will most complement the rest of the room. Granite is a low-maintenance choice, but you may prefer a wooden finish.
There is a range in costs when choosing your materials, so if you're on a tighter budget you'll need to take this into account as well; laminate is a very popular choice as it's more affordable than others and can be designed to mimic other materials.
4. Smart storage
A fan favourite popping up in kitchens all over the country is smart storage, letting you make the very most and a little bit more out of the space you've got in your kitchen and keeping your items tidy and out of the way. Most people hear storage and think drawers or cupboards, but we're seeing a whole new twist and can't wait to see more kitchens feature it.
Magnetic bars for utensils, hanging rails for pots and pans, or sliding storage in spaces that were previously unusable are all great ways to use all of the space you've got and provide more storage for your items. These features are massively on-trend right now, and are the perfect addition for any kitchen. If you've been wondering, "how can I sell my house quickly?", updating the kitchen with these features is a sure way to gain more interest and get things moving faster for you.
5. Focus on the lighting
Bright kitchens are instantly more inviting, so making sure that you've got the right lighting will make the room look more desirable. Making sure that you've got plenty of natural light is really important, as it will help to make the room look more spacious. Where possible, have big windows and keep blinds or curtains open throughout the day to brighten your kitchen.
In homes that don't have windows in their kitchen, you can focus on other ways to introduce light to the room artificially – you can pick out stunning light fixtures that match the style of kitchen you've gone with, as well as look at under-cupboard lighting to add another source of light. Depending on the colour that you've gone for in your kitchen, you can get either cool or warm-toned lights – warm will look more like natural light, but cool tones can have a gorgeous effect, especially in kitchens with darker, richer colours.
No matter your personal taste or style, there are plenty of options for you to create a stunning kitchen that will encourage anyone to grab an apron and get involved!