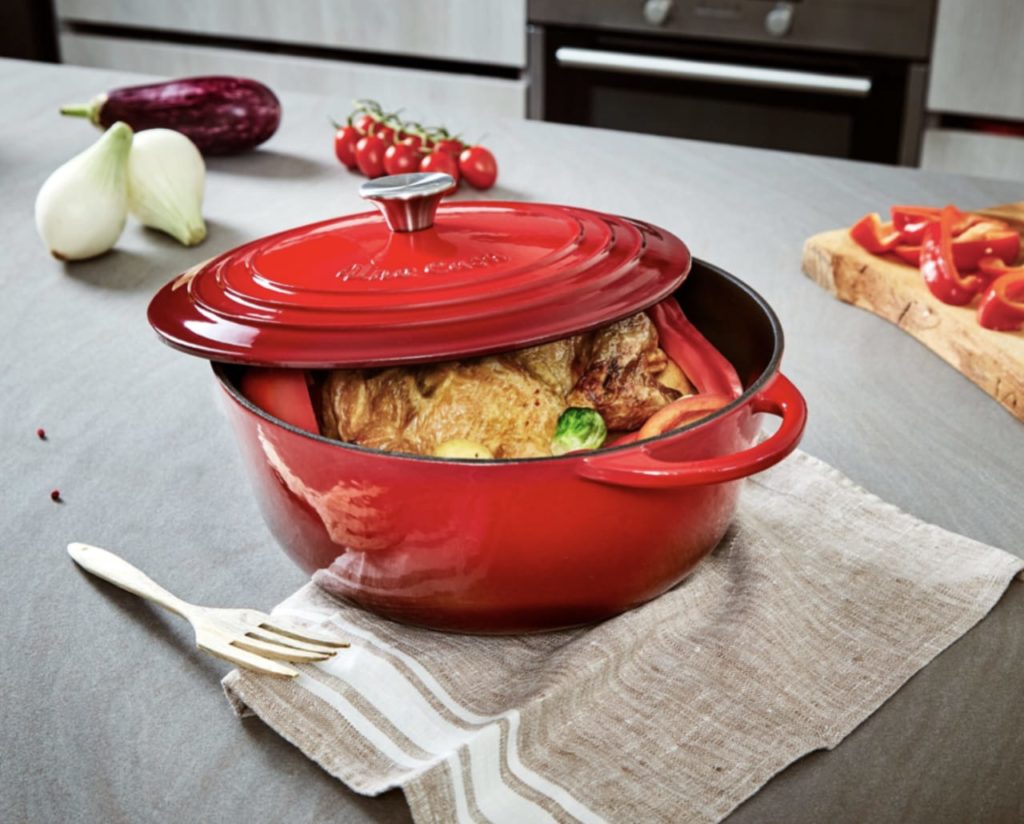 From Antonio Carluccio's Italian twist to Nigel Slater's Moroccan take on this one-pot meal, casseroles should be in every cooks' little black book.
Most people swear by casseroles, while some didn't grow up with the term. So, what is a casserole? Are there healthy recipes since most involve cream, cheese, and noodles?
Casseroles are confusing; most people refer to casseroles as a hot dish or bake, depending on the region. They are oven-baked most of the time and untouched during the baking process.
What's the difference between a casserole and a bake? While they are both cooked in the oven, casseroles are considered an entire meal as opposed to baked goods, which are accompanied by some side dishes such as salad, broccoli, and beans. Also, they differ in terms of ingredients and preparation.
Let's dive in to learn more.
What is a casserole?
A casserole is a one-dish meal often cooked in the oven or sometimes on a stove-top. Besides, it is a dish made of earthenware or glass with a lid, in which one-pot meals are baked and sometimes served in.
They are perfect for large families, easy to prepare, can use various ingredients, and can be frozen and kept in stock. It is often baked in the oven; therefore, your cookware should be oven safe.
You need to find an oven-safe casserole dish that also serves as a serving dish. These casserole dishes come in different materials, sizes and shapes. You can find ceramic, stainless steel, and cast iron casserole pots in the market. Cast iron casserole dishes are more suitable due to their ability to heat evenly and retain heat for a prolonged period.
Parts of a casserole
What makes a casserole taste good? You should pay full attention to each ingredient you are using before baking in the oven.
Casseroles consist of 5 main parts: protein, starch, vegetables, sauce, and cheese.
Protein
You can include any meat-beef, fish, chicken, turkey, pork, and even wild game like deer-shredded or ground.
Besides, beans are yet another protein option, especially for vegan casseroles.
Starch
This is a key ingredient in casseroles; it acts as a binder ingredient while adding flavor to the dish. Think of pasta, potatoes, quinoa, sweet potatoes, rice, and barley. Potatoes can be added raw, but you should cook pasta, rice, and grains slightly before adding.
Vegetables
If you love adding vegetables to every meal, casseroles are the real deal. Here the options are unlimited, including frozen vegetable blend, sautéed onions, and even canned vegetables. Soften hard or cook the vegetables beforehand.
Sauce
The sauce transforms your ingredients into a casserole. You could use enchilada sauce, pizza sauce, chicken or vegetable stock, alfredo, or marinara.
Cheese
If you love lots of flavors, cheese will do the trick. However, it is completely optional.
What is bake?
Just like casseroles, baked dishes are prepared in the oven. Baked goods include bread, pastries, pies, pretzels, cookies, cakes, and scones, and more.
Besides, baking is used to prepare other foods, including casseroles, lasagna, baked potatoes, meatloaf, pizzas, baked beans, and baked apples.
There are different types of bakeware used, such as Swiss rolls tins, cookie sheets, pie pans, sheet pans, and cake pans.
Baking has been around for ages; bread, the most common baked food, is an important part of our daily meals. The American and European cuisines are not complete without pastries, bread, and cakes. It is a major part of their meals.
Common baking mistakes to avoid
Baking is more of an art; you just can't take a little creative license; a slight change in your recipe could mess the whole outcome.
Forgetting to preheat the oven
Often, we forget to preheat the oven and place the baked goods straight away. This messes up your baking chemistry. Always preheat the oven before placing anything.
Choosing the wrong pan
There are various bakeware to choose from. Ensure you have the proper pan before starting baking.
When it comes to baking casseroles, go for enameled cast iron, stainless steel, or ceramic. Our favorite is the Uno Casa enameled cast-iron casserole dish as it can be used in the oven and look good as oven-to-tableware. Besides, the enamel coating prevents it from rusting if left wet.
Failing to grease
The truth is we've all been there. The recipe states that you should grease the baking dish, but we skip it and get into the hard part.
However, for easier release and cleanup, grease the dish. Also, you can line up with a heavy-duty foil and grease it with cooking spray before baking.
Casserole vs. bake: final thoughts
A casserole is simply an oven-baked dish, while bake is a process of cooking food without direct flame, basically in an oven.
Baking involves cooking various foods, including casseroles.
The only difference is that there are various dishes, ingredients, and preparations involved in baking different types of foods.