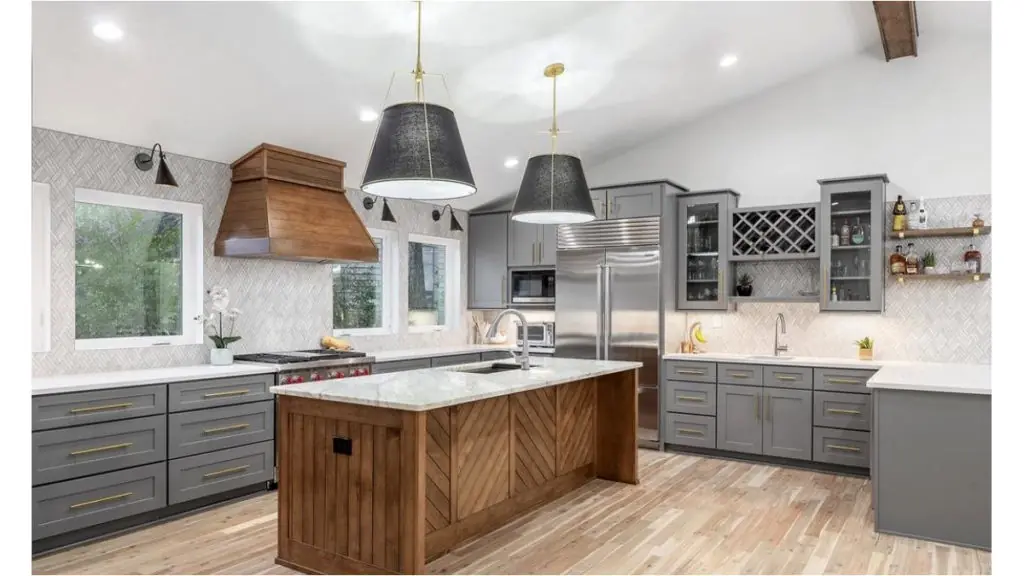 If you are looking to add a kitchen island to your kitchen's design, or maybe make an existing island look better, then this article is the place for you! Kitchen islands present the opportunity for more food prepping space, an added stylish element to the space, a potential statement piece, and also allows for different appliance configurations. Oftentimes, people incorporate their sinks or cooktops on their kitchen islands. If you are looking for more cabinet space, islands are a great place to put microwaves and other small appliances so they do not take up any wall space that can otherwise be used for more cabinetry.
Incorporating an island into a kitchen does not have to be a difficult task, especially once you narrow down what style, size, and location you wish to have for your island. This article presents the perfect opportunity for you to figure out which island will fit best into your kitchen design!
Let's waste no more time and get into these 12 different and unique kitchen island ideas!
Modern Farmhouse Island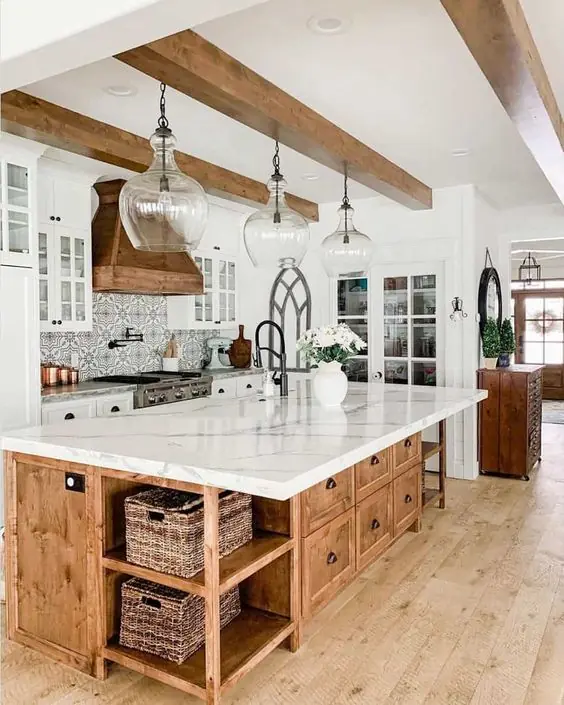 If you flip through home magazines, browse through Pinterest, or scroll through nearly any social media platform, you will find a lot of houses that incorporate the modern farmhouse style. For the kitchen space, this look can sometimes be difficult to continue. Including lots of natural textures, such as wood or stone, is a great way to complete the farmhouse look in the kitchen. In the kitchen above, without the wood materials this would look like an ordinary white kitchen. Incorporating a kitchen island with stained wood cabinetry is a great way to not only create a statement, but it allows you to continue that farmhouse feel that otherwise is easy to lose!
Repurposed Furniture Island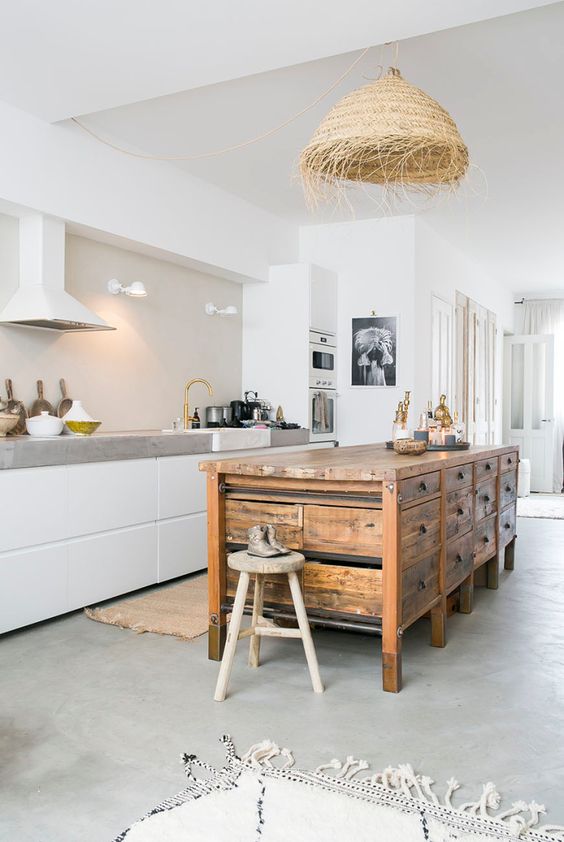 If you have an eye for vintage pieces, or just furniture that can be upcycled in general, having a repurposed furniture island is another great option for a kitchen island. When visiting nearly any thrift store, you will see tables, hutches, old cabinets, dressers, work benches, and more. Any of these have the potential to be a kitchen island and oftentimes will have storage already built into them (no need to buy a countertop OR cabinets)! When doing this, just make sure the top of it is sealed and prepped so that it can last just as long as the rest of the kitchen!
Minimalist Island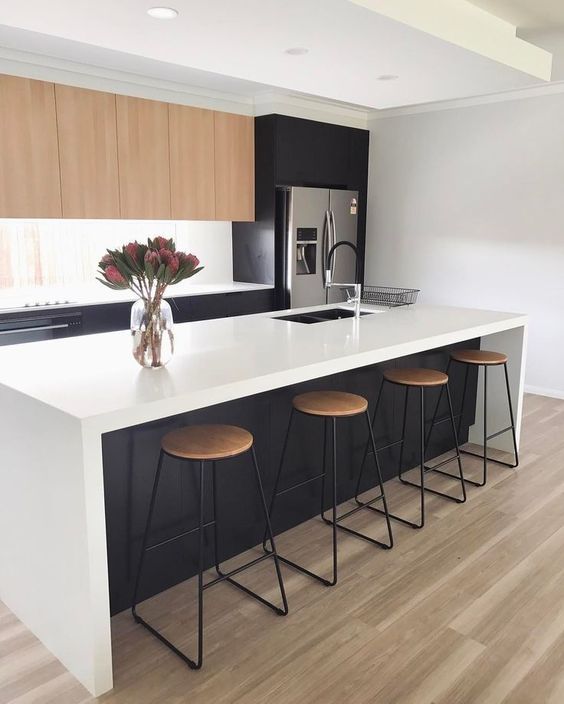 Looking to incorporate a kitchen island into a minimalist kitchen? The kitchen pictured above has a beautifully designed kitchen island, only including two basic colors yet provides a huge statement for the space. For minimalist designs, it's easy for a space to start to look boring or maybe even unfinished. To stray away from that happening in your minimalist kitchen, including a waterfall countertop provides an eye-catching and dramatic look to the space.
Stovetop Island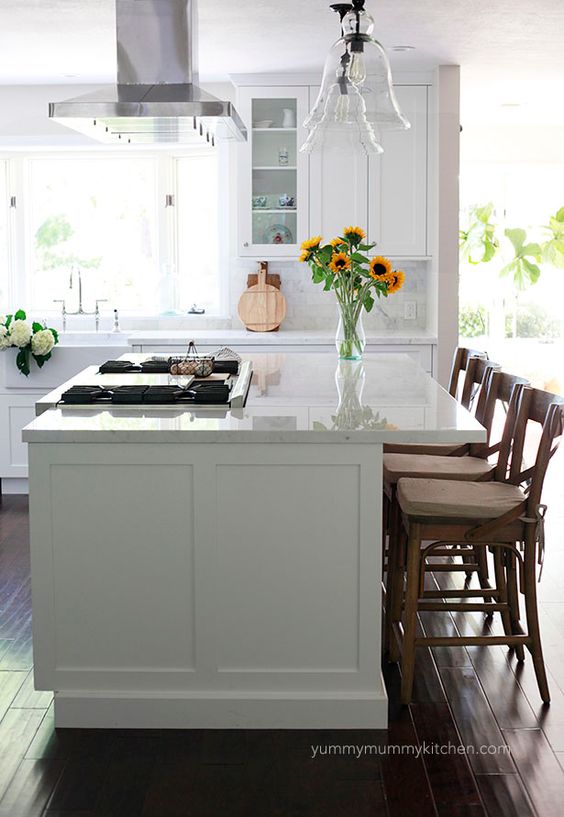 When a kitchen space is on the smaller side with not much space to work with, including the stovetop or oven in the island is a great, space-saving option. By doing this, your appliances won't look nearly as crammed into a small space. Not only that, but it can also be seen as a statement in the design with the inclusion of a range hood that comes down from the ceiling. Depending on the size of the island, there could also be room for a breakfast bar or even additional appliances.
Rolling Island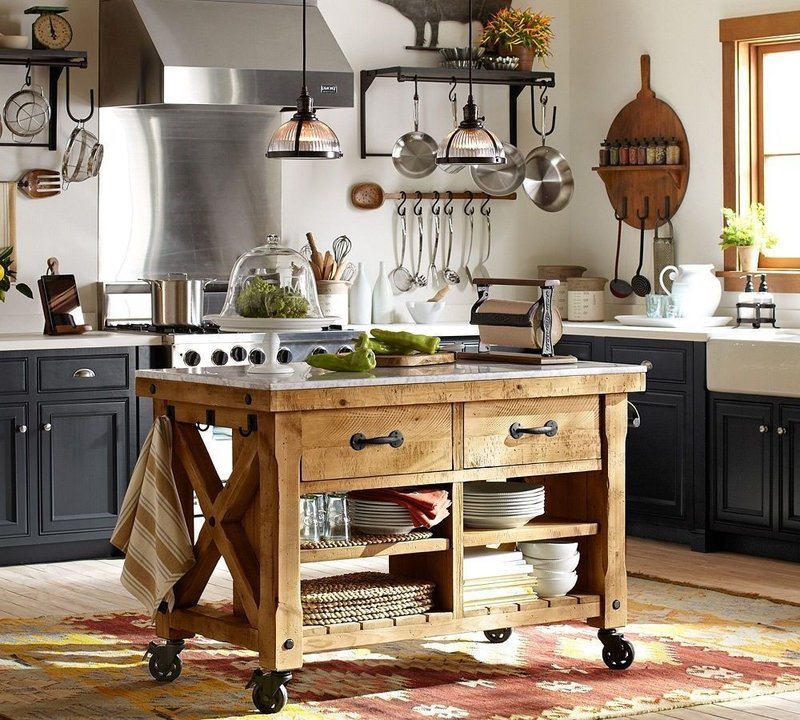 Calling all small kitchen owners! If you have a tight space in your kitchen, incorporating a rolling island (sometimes referred to as a cart island) could be the best decision that you have ever made. They come in all shapes and sizes, styles, colors, and can be bought at nearly any furniture store or furniture website. When you are preparing a meal, you are able to roll the cart into the kitchen area and have the additional countertop space and storage.
Two-Toned Island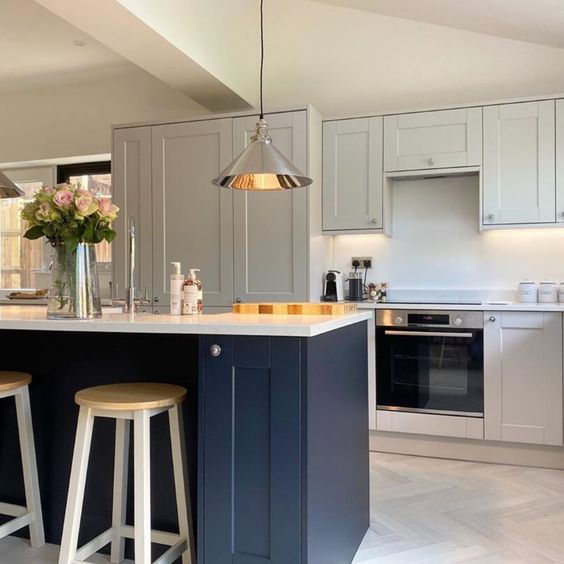 When you have an island that has cabinets or countertops that are different from the rest of the kitchen, it provides a beautiful statement to the space, as well as the addition of more color if you have a single-colored kitchen. The easiest way to achieve this two-toned look is to incorporate white cabinets with an island with either blue or grey cabinets. This is one of the easiest designs to incorporate into your kitchen, and it makes it look magazine ready!
Butcher Block Island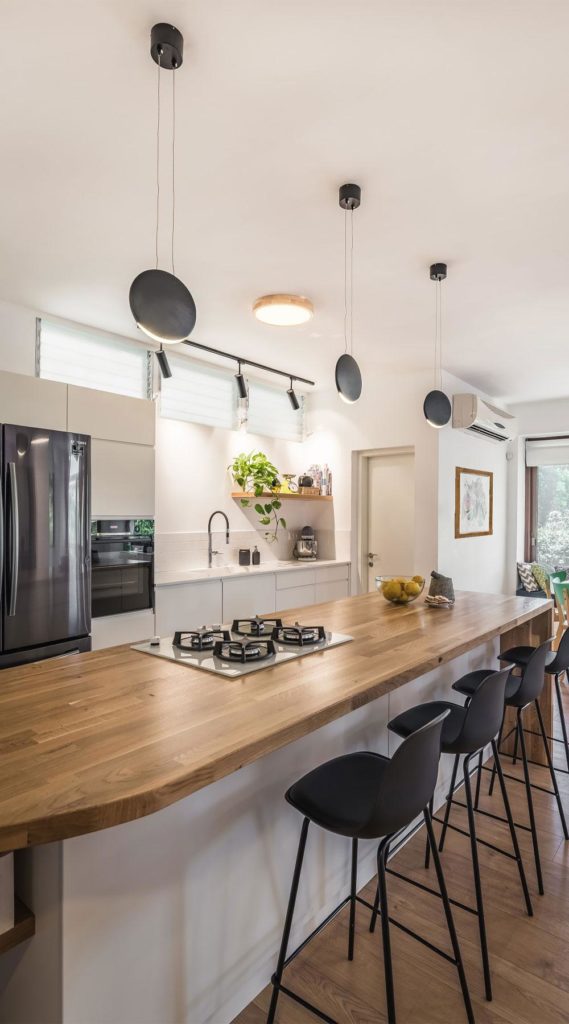 Incorporating butcher block into kitchens has become increasingly popular, especially as countertops. But in this case, butcher block kitchen islands are a great way to break up the potentially plain and single-colored space. By adding butcher block to your island it will provide the kitchen with more warmth, more texture, and overall will bring more style into your kitchen design!
Breakfast Bar Island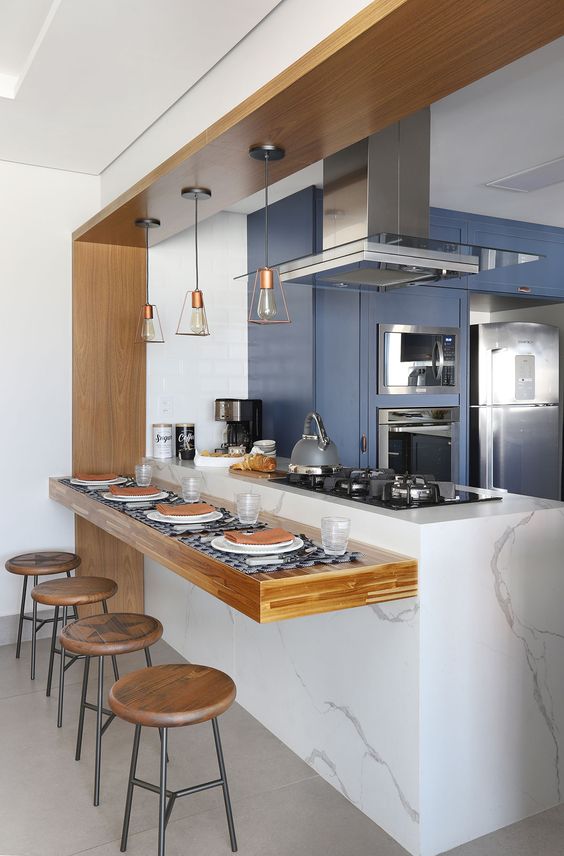 Incorporating a breakfast bar into your island is a great option for when you don't have enough space for a breakfast nook or a dining table. There's numerous ways to do this, all of them provide extra seating that can also come in handy for families with children or people who like to entertain others. Like the picture above, a breakfast bar island can be just an added piece of material to the island. A more popular option is to just do a continuation of the island or to include a raised portion of the island for people to sit at.
Statement Island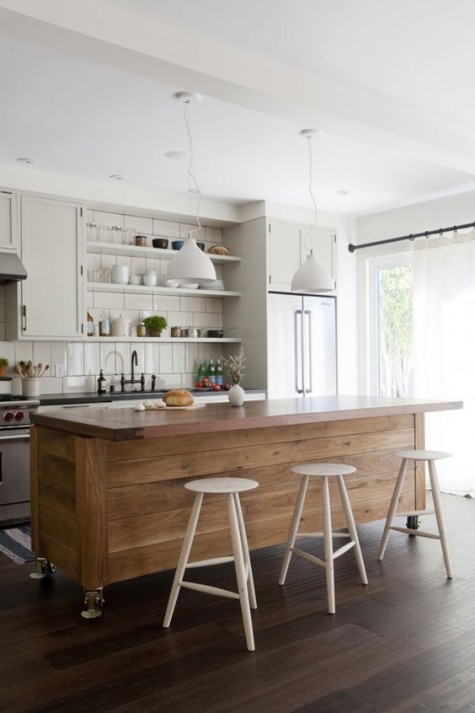 If you are looking to add some more style and differentiation to your kitchen design, adding an island that is a statement will do wonders! There is a large array of options you can do in order to achieve the eye-catching look for an island. The island can be a pop of color, a different material such as wood, stone, or metal, or it could be as easy as including a different kind of countertop from the rest of the kitchen. If bland, plain kitchens aren't your style, then adding a statement island may just be the choice for you!
Double Island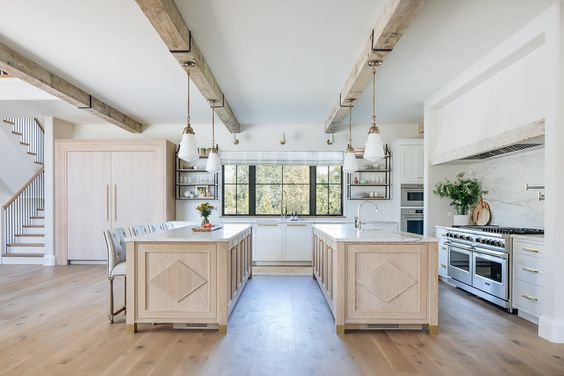 If you have a large kitchen space, incorporating two islands might just be the right decision for your kitchen design! Not only does it make an amazing statement, but it provides double the countertop space, seating, space for appliances, and opportunity to add more stylistic elements into the kitchen. Having two kitchen islands presents the opportunity to get rid of negative, unused space and instead makes it usable and adds to the feel of the entire kitchen!
Irregularly Shaped Island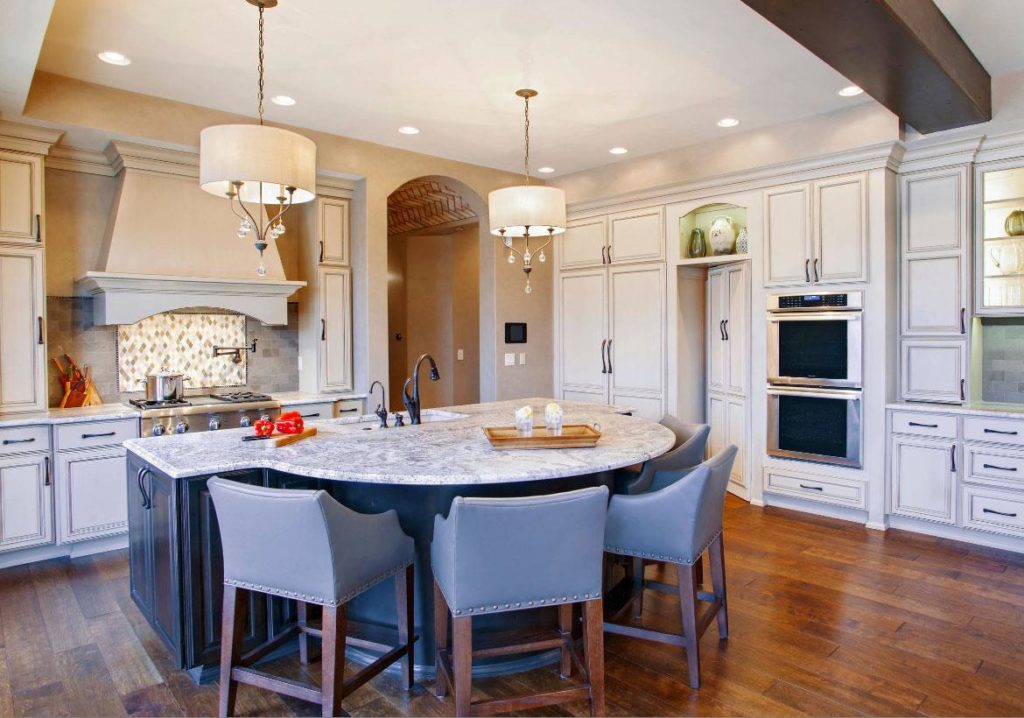 Sick and tired of seeing the same rectangular or square-shaped kitchen islands? Then an irregularly shaped kitchen island may be the right decision for you. Kitchen islands can come in almost any shape you can think of, so depending on the shape of your entire kitchen space, you will be able to incorporate an island that is different from all of the rest. The beautiful kitchen island pictured above is the perfect shape to incorporate not only a sink and cabinetry, but also extra seating. Try playing around with different kitchen island shapes, and maybe you might just fall in love with an irregular one!
Built-In Dining Table Island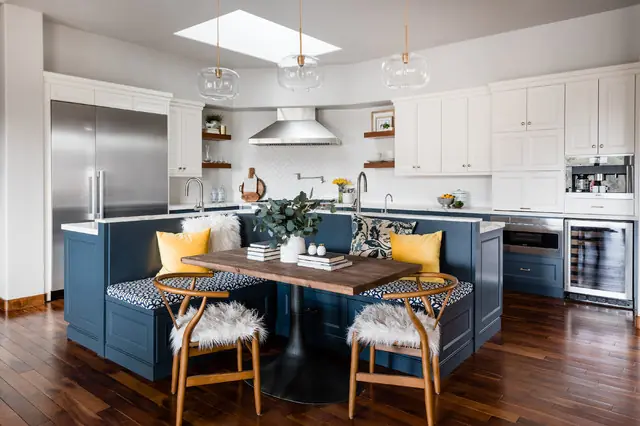 Another great way to maximize the use of space within your kitchen is to include a built-in dining table to your kitchen island. When a breakfast nook is not a possibility, or maybe you don't have space for a dining room table, this is a great option. The appearance of the built-in is seamless with the island, provides more stylistic elements to the kitchen as a whole, and functions as additional seating as well!
Creating your dream kitchen doesn't have to be difficult, and neither does picking the right kitchen island to go with the rest of the kitchen design. LilyAnnCabinets.com has a free 3D kitchen design tool to help you achieve the exact design you have dreamed of. So when you want to spice up your kitchen island design or the entire kitchen, Lily Ann Cabinets is there to help along the way!