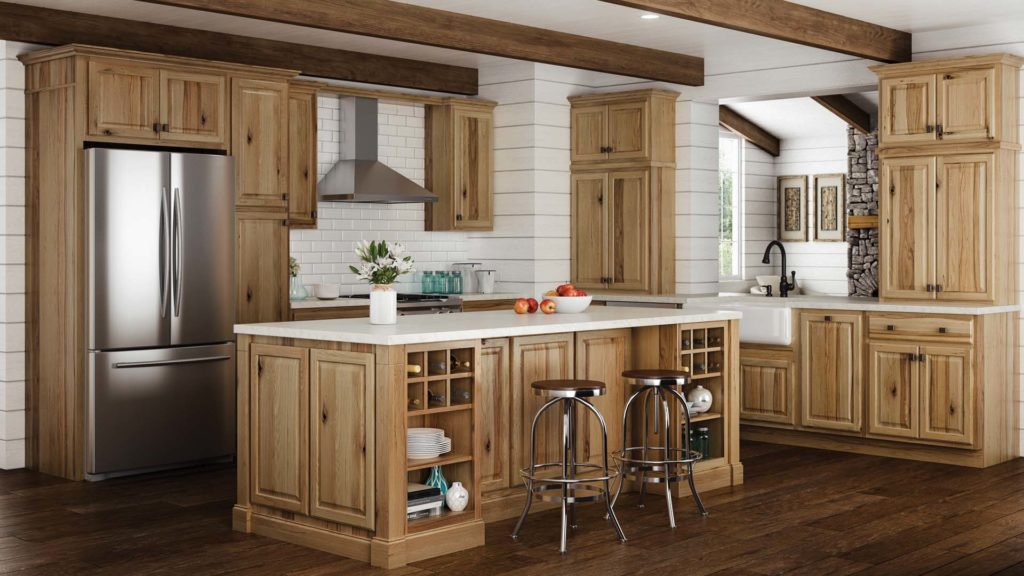 The kitchen is in a certain way the heart of your home. You cook, eat and entertain and this space needs to be something that welcomes you each morning. While planning to remodel your old kitchen it is very important to lay a lot of emphasis on the cabinets. Redoing your cabinets alone will give your kitchen the face-lift it requires.
While zeroing in on the best kitchen cabinet it is important to lay a lot of emphasis on the style, fit and budget… besides the quality of kitchen cabinet. Let's take a look:
Style
Traditional – The market today is flooded with different styles of kitchen cabinets. They can be broadly classified into traditional and contemporary. Traditional kitchen cabinets look regal; they have frames and in some, little carving as well. They are extremely durable and have similar drawers that have visible handles, which you need to pull by hand. It is important to however note that the traditional kitchen cabinetry must suit your kitchen and not look completely out of sync with the rest of the décor.
Contemporary – The contemporary kitchen cabinets have utility as their most important aspect. They usually are frameless and have minimum visible hinges on the outside. Contemporary kitchen cabinets also have more shelves and drawers with easy to pull handles. They would suit most kitchens and are very convenient to use. There is a wide range of very sleek kitchen cabinets that would not only look good but also add the requisite finesse to the kitchen.
Fit
This is an integral part of choosing the best kitchen cabinet. It is absolutely essential that your cabinets fit perfectly into your kitchen. With kitchens sometimes small it is extremely important to have well fitted cabinets to save space. Customized kitchen cabinets are made to fit your kitchen. They are best suited for odd shaped kitchens and are usually of excellent quality. Semi-customized and stock kitchen cabinets must be chosen very carefully and before you buy any of them it is essential to take the necessary measurements. A well fitting kitchen cabinet will not only make the kitchen look bigger but also give you more space for the other kitchen appliances.
Budget
Everyone who wants to remodel their kitchen will have a pre-planned budget for the same. The cost of the entire process would depend on the extent of remodeling and the type of cabinets used. The entire kitchen cabinet remodeling cost will depend on whether you plan to get them custom-made, semi-custom made or buy ready stock. And you could go for high-end kitchen cabinets if you have the budget.
1. Custom-made kitchen cabinets – The product is usually of a better quality and the cabinets will fit your kitchen best. You can choose everything from the type of wood, the number of shelves and drawers, the handle, the hinges and how you want them placed. You can do up your entire kitchen based on a theme and get your cabinets to complement it as well. This would be the best choice if you have the budget for it because custom-made cabinets could burn a big hole in your pocket.
2. Semi-custom made kitchen cabinets – Based on what you choose, the semi-custom made cabinets could either be more or less expensive than fully custom-made ones. You have a much wider variety compared to stock kitchen cabinets. But if you choose the best wood, with extensive carving and the like… semi-custom made kitchen cabinets will not be any cheaper than the fully custom designed ones.
3. Stock kitchen cabinets – Stock kitchen cabinets are usually plain, made with mostly low quality products and they can be assembled quite easily. You cannot choose much more than the color of the paint, but this is a good option if you are keen on functionality and minimizing costs. Sometimes good quality kitchen cupboards that were not sold in the previous season are a good bargain because it may suit your kitchen well and still not cost much either.
Another way of buying the best kitchen cabinets is checking out recycled and reclaimed ones. Not only are they eco-friendly, they are durable and may suit your needs perfectly.
The best kitchen cabinet should suit your home, your kitchen and your needs perfectly while not causing too much strain on your pocket. Always be on the lookout for good bargains on the Internet and local stores and you may find something that works perfectly for you.