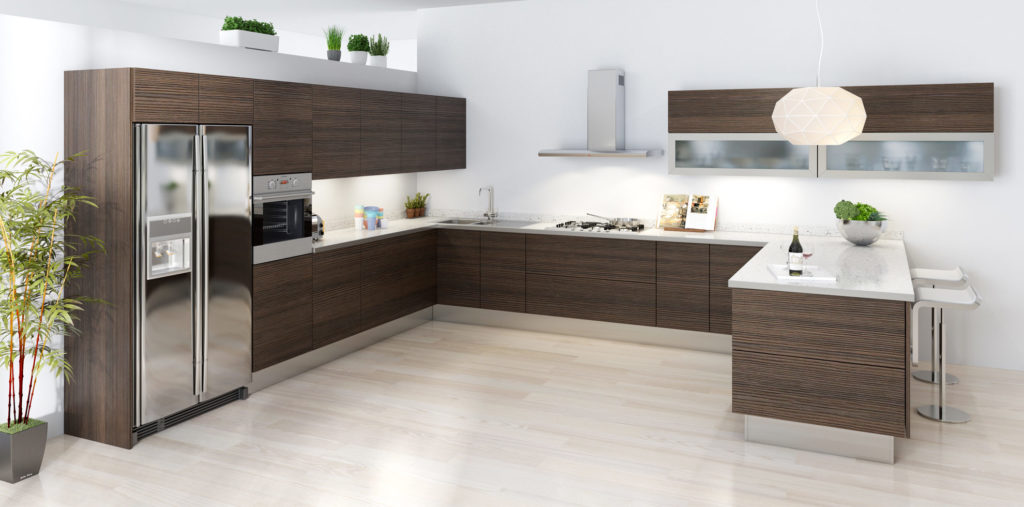 A modern kitchen can make working there more convenient and efficient. Implementing a modern kitchen design is a very interesting job. Steel, laminates, wood, marble, granite, plastic… you can mix and match all these materials to create a contemporary kitchen design which would surely give a modern appearance to the kitchen and would also make you want to work in the kitchen more!
You can start off putting your modern kitchen design into order by purchasing some contemporary kitchen appliances… especially in stainless steel. These stylish appliances would want you to use them and would also add to modern appeal of the kitchen. You can opt for a cooking range, dishwasher, sink, microwave, utensils and chimney! You can also go in for trendy countertops made from granite, concrete, marble, limestone and the like! They aren't easy to install but are low on maintenance.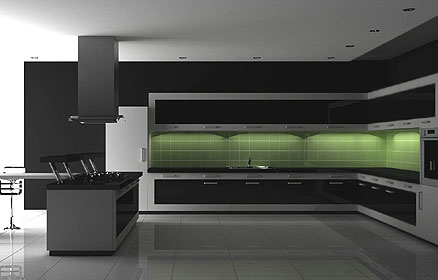 There are a lot of options available for your kitchen cabinets that you can include in your modern kitchen design. Metal effect and the white gloss cabinet doors will certainly add to your modern kitchen. Another element that would add to your contemporary kitchen design is a sink… granite, steel, ceramic, stone, in a round, square, layered, rectangular shape… you can choose from various options to create one that suits the rest of the theme of your modern/contemporary kitchen.
Nowadays, any modern kitchen is incomplete without a kitchen island! They are also available in a variety of designs and materials. There are fixed islands as well as those that are mounted on wheels and can be moved, wherever you want, with ease. It serves many purposes… you can use it for storage, cooking, serving and also to install a sink or a dishwasher!
If you are a little confused with all the modern kitchen designs available, here are a few ideas to just get you started:
1. Instead of the fitted, opt for a free style look. Go for free standing furniture. It will give the kitchen more breathing space and this free style would break the continuity of fitted counters.
2. Go green! In this time of global warming, nothing speaks of a contemporary kitchen design as eco friendly products! You can buy energy efficient dishwashers, or you can use natural rocks to make your kitchen flooring!
3. Another element you can incorporate in your modern kitchen design is the use of organic shapes. Deviate from straight lines and opt for round shapes.
4. If you love Asian food, bring in the Asian décor elements! Use bamboo and you can also opt for a sliding pantry door, Japanese style!
5. A complete must-have in a modern kitchen design is a built-in. They are sleek, stylish and very convenient. Steamers and strainers, wine coolers, ice machines, coffeemakers, spice holders and other such appliances add to the convenience.
6. You can also use lots of glass… glass tiles, glass cooktops, and on refrigerator and dishwasher doors! A mosaic glass fixture would also add a lot to your modern kitchen interior design.
7. Be bold and add a dash of color! Deviate from the usual nude shades like cream and green… instead go for blues and reds! However this is for the adventurous ones amongst you!
These ideas are just the tip of the iceberg… there are so many colors, materials, effects, and styles to play with! You have to see what suits your idea of a modern kitchen best. You can opt for a Mexican feel and go for dark bright colors, or you could go for a French one… the choice is yours. The one that fits your idea of modern kitchen design is the one you should opt for. Do make sure to include modern appliances and cabinets though… a modern kitchen will not be contemporary if it is not equipped with all the style and convenience offered by them! So, what are you waiting for, start renovating… happy decorating!
In the meantime, here is a software that will help you realize your modern kitchen design ideas.