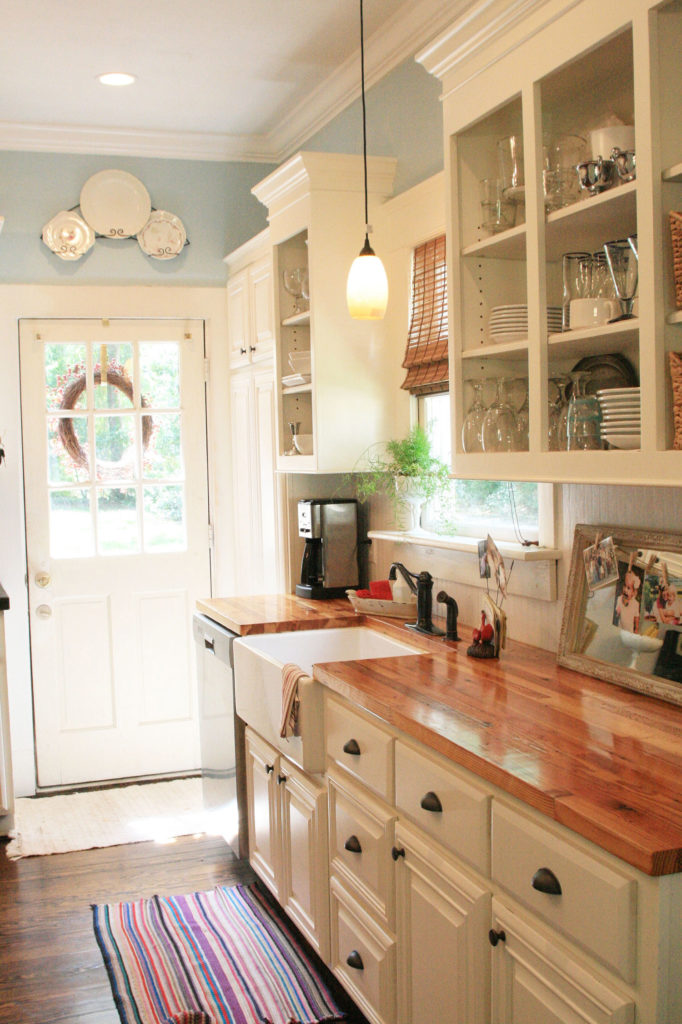 The country kitchen or the rustic kitchen is not for the working woman who will come home from work and whip up something! It is designed for the homemaker of today. The country kitchen design is sure to inspire her and her culinary skills into preparing some delicious meals for the whole family. But, don't be worried that the rustic kitchen design would be plain and devoid of any style. Nowadays, even huge luxurious mansions opt for a rustic kitchen design to add that touch of tradition and the laidback country lifestyle to the otherwise hectic pace.
If you are also thinking of implementing country kitchen design, here are a few ideas that would help you in starting off:
1. To give the kitchen a country rustic feel, use natural stone tiles for the floor. This will give the flooring a withered look… and for more authenticity use different sized tiles.
2. The most important element in a rustic kitchen design is the color scheme. When going for a country kitchen design, do remember to use soft, muted shades for the units e.g. you could go for shades like sage green, mushroom, cream, pale grey etc.
3. You can also use a combination of wall units to add an interesting twist to your small kitchen space. This combination would also make the space look bigger and larger than it really is.
4. You can add some appliances made from stainless steel to bring about a fusion of the city and the country kitchen design. Also, you can add black wall units and a combination of black and white tiles to give a modern twist to a rustic kitchen design.
5. An ideal element that goes well with the whole country kitchen design is a display open front unit! This will also help you to flaunt all your most priced crockery collection!
6. You can also use free standing furniture… it not only gives a relaxed feel, it is quite easy to move when you are changing house!
7. A typical element of a country kitchen design is the traditional countertops made from wood. However, if you want to add some twist, you can substitute the wooden countertop with one made from granite!
8. You can also put up a large chimney which will add to the whole rustic feel of the kitchen.
9. Also, some of the elements that are a must in any rustic kitchen design are — lace curtains, natural wood, earthen ware, terracotta pottery, porcelain crockery, carpets etc.
10. While implementing all these country kitchen design ideas, don't forget the practicality and functionality of the appliances that you are placing. For example, always place the sink near the microwave.
11. Take care to not overcrowd the kitchen… don't fill it up with rows of pottery, shelves full of crockery and wooden furniture! Consider carefully the space available in your kitchen before filling it up.
12. Fresh flowers or apartment plants would add color as well as freshness to your kitchen space.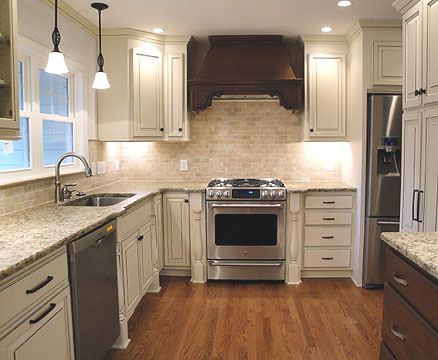 Now, you can also convert your kitchen into one straight from France. All you need is simple French country kitchen design tips and ideas. However, before you start renovating or creating, you need to remember that a typical rural French kitchen does not have all the amenities that are available nowadays… so you have to decide how you can use these modern appliances in a traditional way!
Like in any other country kitchen design, the color scheme plays an important part in a French country kitchen design as well. The colors that you should use are warm colors such as white, buttery yellow, mustard, gold, azure blue and other such natural shades with wooden beams and posts. You can also use natural terracotta floorings, stones and bricks to add that authentic touch to the French country kitchen design.
In earlier times, kitchen was not just a place to cook food… it was an area where friends and family got together to enjoy some precious moments together, a place of social gathering where they not only enjoyed delicious treats but also some nice company of their loved ones. If you want to bring about that same ambience in your current kitchen space, you just have to follow these simple country kitchen design ideas and transform your kitchen into heaven!
Here is a software that would also help you realize your country kitchen design.