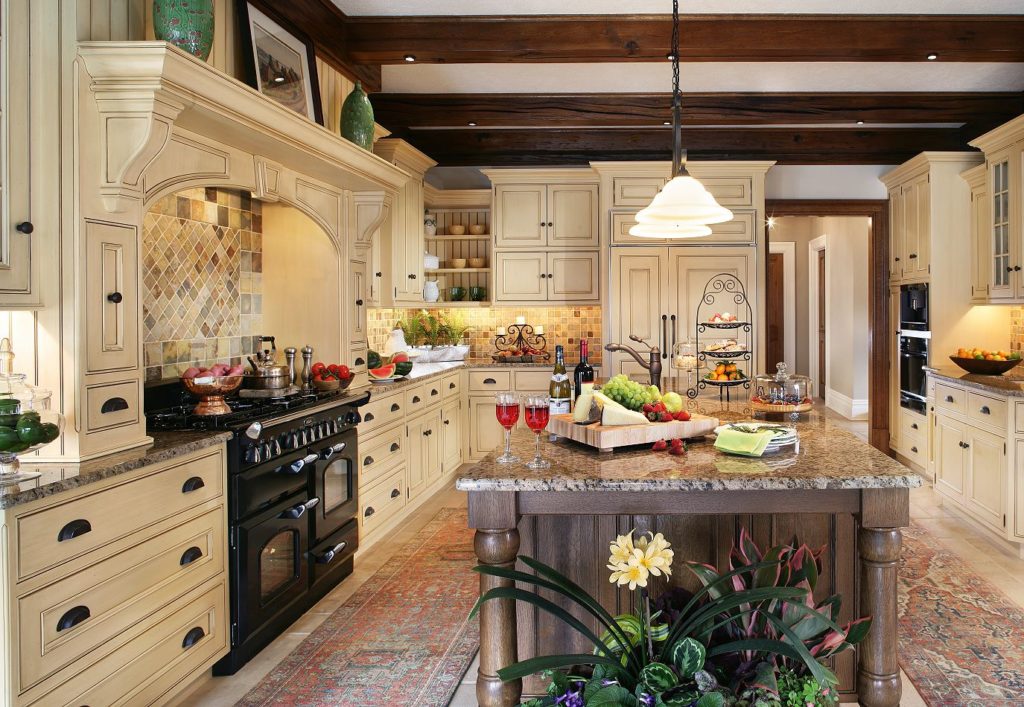 This is a guest post by Eveleene Salt. If you want to guest post on this blog, check out the guidelines here.
Whether it is cooking your favorite meals, using the sink area to clean utensils or gathering with family to have meals, a great deal of time is spent in the kitchen. The kitchen is regarded to be an important area in every home. Having a perfect kitchen design is crucial, particularly from the point of view of investment. It therefore becomes increasingly important to enhance the appearance of your kitchen by remodeling it.
You can choose a blend of old designs from the 1950s and combine them with the most contemporary designs of the modern era to add artistic value to your kitchen. Take a walk down memory lane to the good old days of 1950s when kitchen designs differed in every aspect from that of the previous decades. Color appliances were common in most kitchens during 1950.
During the era, people preferred colors like pink, yellow and turquoise. Most areas of the kitchen were made of chrome, a material commonly used during those days. However, with the changing times and advancing technology at a fast pace, people developed unique, innovative ideas that totally transformed the appearance of kitchens in the modern era.
Blending old and new kitchen designs makes the kitchen appear unique. It also makes kitchen stand out from the crowd. Here are a few ways you can blend both new and old kitchen designs to create a warm, homely feeling.
1. Kitchen sink is considered to be an important area that is used often. It is vital to select kitchen sinks according to your needs. Farmhouse Sinks are in vogue with the country kitchen style gaining immense importance these days. These sinks are made of ceramic and come in a rectangular shape. Whether it is kitchen design of the Victorian or Georgian era, these sinks enhance the appearance of kitchen.
2. People used wood for a variety of purposes in the 50s. Wood was used to make cabinets in kitchens. Wooden cabinets are in vogue these days; however the designs of wooden cabinets have totally changed. You can create a common theme between the ancient and modern kitchen styles in order to bring a modern feel to old style kitchen.
3. You can use inexpensive materials and bright colors for kitchen flooring. Polyvinyl plastic was used for kitchen flooring in the 50s. The same material can still be used today with a different design and bright colors.
4. Backsplashes liven up the entire kitchen area and transform the look of a gloomy kitchen into an entirely new one. You can create gorgeous looking backsplashes by smashing old plates and cups made of porcelain and creating your own color, designs.
5. Kitchen counter tops occupy a significant space in kitchen. You can explore an alternative for traditional granite to give a new, yet conventional look. Here are some:
Wood – A warm and cozy option that brings out the 50's era. When done properly, it looks stunning, but has some maintenance issue.
Quartz – Looks elegant, adds sophistication and is as strong as any other stone. Being manufactured you have range of reliable colors and patterns. If you are looking for blend between old and new, this counter top option can be really interesting.
Concrete – Yes, it is just not only used for walls. Kitchen counters can be shaped quite well from concrete provided it is being done by an expert. If you seek a bit modernized and polished look for you kitchen, give concrete countertops a try. It can also be patterned with glass to bring out the terrazzo effect.
Paperstone – This material is derived by mixing recycled paper and resin. The result is a finished, waterproof and sturdy material which makes for a good counter top option.
Eveleene Salt deals with house removal, packing, storage and renovation services. She devotes her maximum time to write about her experiences during work. For more information visit their website.